Regular price
Suggested Retail
$31.99
Unit price
per
Everyday Low Price
Sold Out
Shortens Duration Of Influenza A & B
Boost Immune Defences
For Coughs, Fever & Congestion
Relief From Aches & Pains
Vegetarian - Gluten Free
Description
SAMBUCUS - Sambucus Organic Elderberry Cold & Flu Syrup - 240 Millilitre(s) - NPN: 80061997 -- Nature's Way Organic Sambucus Cold and Flu Care Syrup is traditionally used in Herbal Medicine to help relieve symptoms of colds and flus. The delicious tasting syrup contains 100 mg of Organic European Elderberry in each serving of two teaspoons. The Standardized Elderberry also provides antioxidants to help maintain good health. Bonus? Its a taste everyone will love, and the syrup is certified organic, gluten-free, vegetarian and contains no artificial preservatives.
INGREDIENTS
Medicinal Ingredients
Non-Medicinal Ingredients
D-Fructose

Glycerine

Malic acid

Maltodextrin

Purified water

Raspberry flavour
Share
View full details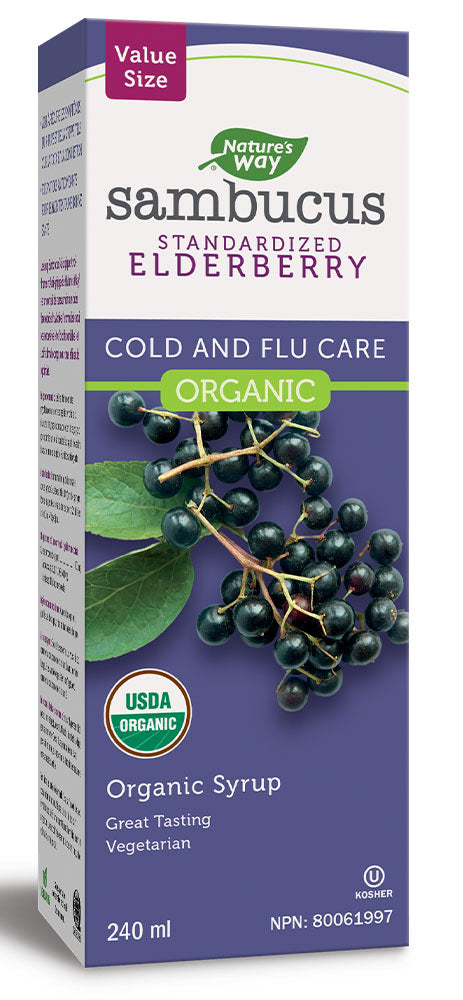 DISCLAIMER
The information and product descriptions appearing on this website are for information purposes only, and are not intended to provide or replace medical advice to individuals from a qualified health care professional. Consult with your physician if you have any health concerns, and before initiating any new diet, exercise, supplement, or other lifestyle changes.