Regular price
Suggested Retail
$39.95
Unit price
per
Everyday Low Price
Sold Out
PLATINUM - Complet-X - 90 Softgel(s) - NPN: 80019062

Supports normal strength and elasticity of your joints
Helps Repair Joints
Nourishes Cartilage
Superior Nutrient Absorption
Unhealthy joints can affect your quality of life by making even the simplest daily activities a challenge. Complet-XTM is a complete joint care formula with glucosamine, chondroitin and hyaluronic acid that is designed to provide the necessary building blocks for your joints, including the synovial fluid. The chemical structure of hyaluronic acid enables it to retain water and by doing so, it keeps our tissues properly hydrated. It has been noted that people who eat diets rich in hyaluronic acid have smoother skin and a more youthful appearance.Comprehensive Joint Nourishing Formula: Cartilage Ligament Synovial fluidComplet-XTM Features: Glucosamine HCI - a building block from which the body makes cartilage, collagen and other components of connective tissue. Chondroitin - a natural component of cartilage, which supports the strength and elasticity of your joints. Hyaluronic acid - a major component of synovial fluid that is believed to improve the viscosity of joints. Omega-3 - helps reduce inflammation in the body.
INGREDIENTS
Chondroitin sulfate

400 mg

Fish oil

600 mg

Glucosamine hydrochloride

500 mg

Hyaluronic Acid

13 mg
Non-Medicinal Ingredients
Apis mellifera

Caramel

Gelatin

Glycerol

Lecithin

Natural Lemon Flavour

Natural Tocopherols

Rosmarinus officinalis

Water
Share
View full details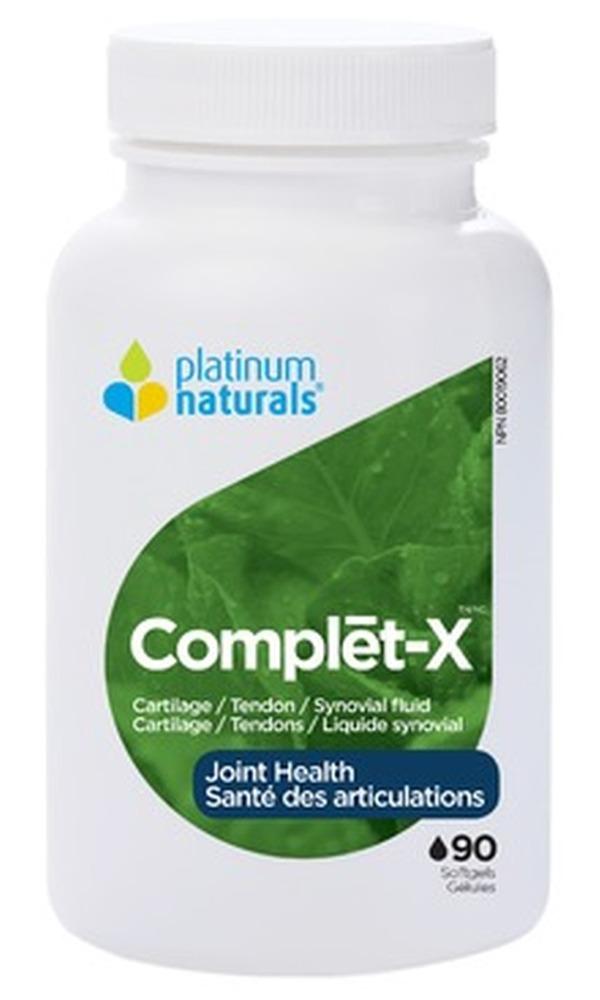 DISCLAIMER
The information and product descriptions appearing on this website are for information purposes only, and are not intended to provide or replace medical advice to individuals from a qualified health care professional. Consult with your physician if you have any health concerns, and before initiating any new diet, exercise, supplement, or other lifestyle changes.