Regular price
Suggested Retail
$54.29
Unit price
per
Everyday Low Price
Sold Out
PLATINUM - Super EasyMulti 45+ for Women - 60 Capsule(s) - NPN: 80056790
Complete anti-aging solution with 10 supplements in 1 convenient softgel
Designed to combat the effects of aging with powerful antioxidants
Protects your heart with CoQ10, omega-3 fish oils and hawthorn berries.
Maximize brain power with ginkgo biloba, CoQ10, omega-3s and powerful antioxidants
Omega Suspension Technology (OST) provides better absorption and results you can feel.

Cell degeneration from free radical damage causes eyesight, hearing and memory to diminish as you age. It can also impair your immune system and lower your resistance to illness and infection. Super EasyMulti® 45+ for Women is designed to fight against internal and external signs of aging through its unique formulation of vitamins, minerals, super nutrients and antioxidants - all in a convenient softgel. Comprehensive anti-aging formula designed to prevent age-related health problems. Convenience.
10 Supplements in 1 Formula:
Multivitamin
CoQ10 (heart, energy and antioxidant)
Milk Thistle (liver support)
Green Tea Extract (antioxidant)
Ginkgo Biloba (mind and circulation)
Grape Seed Extract (antioxidant)
Phytosterol (cholesterol and immune support)
Hawthorn (heart)
Kelp (thyroid)
Omega-3 and omega-6 (heart, mind and immune support)
INTRODUCING SOME EXCITING NEW CHANGES TO SUPER EASYMULTI® 45+
The formula has been updated to reflect the most up to date research in nutritional science. The overall nutrient levels reflect an emphasis on the most critical nutrients for anti-aging, energy and vitality. Some formula highlights: Smaller capsule size B12 now increased to 1, 000 mcg per day CoQ10 now increased to 100 mg per day Beta Carotene-free


Share
View full details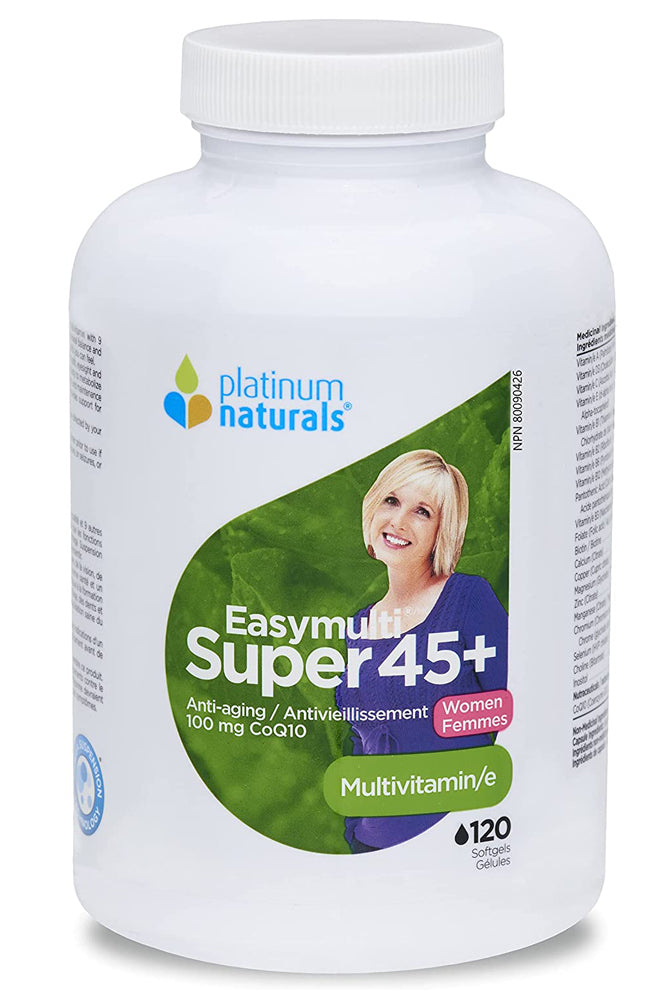 DISCLAIMER
The information and product descriptions appearing on this website are for information purposes only, and are not intended to provide or replace medical advice to individuals from a qualified health care professional. Consult with your physician if you have any health concerns, and before initiating any new diet, exercise, supplement, or other lifestyle changes.