Regular price
Suggested Retail
$44.99
Unit price
per
Everyday Low Price
Sold Out
Promotes healthy development, and heart and brain function
800 mg of omega-3s per 1/2 teaspoonful
Wild caught and sustainably sourced
FOS and IGEN non-GMO certified
Freshness, potency, and purity guaranteed
Description
Carlson - Kids Very Finest Fish Oil - 200 Millilitre(s) - NPN: 80012589 -- Kid's Norwegian The Very Finest Fish Oil in lemon flavor has received numerous awards for its taste and quality. To ensure maximum freshness, Kid's The Very Finest Fish Oil is closely managed from sea to store. We source the highest quality, deep, cold-water fish using traditional, sustainable methods. Kid's The Very Finest Fish Oil is then bottled with a touch of antioxidants and is given a nitrogen flush to remove oxygen and help prevent oxidation. Each 1/2 teaspoon of Kid's The Very Finest Fish Oil provides 800 mg of omega-3s, including EPA and DHA, which support heart, brain, vision, and joint health. Like all Carlson omega-3s freshness, potency, and purity are guaranteed. ?
INGREDIENTS
Medicinal Ingredients
Non-Medicinal Ingredients
Bubblegum flavour (natural)

Natural Lemon Flavour

Orange flavour

Tocopherol
Share
View full details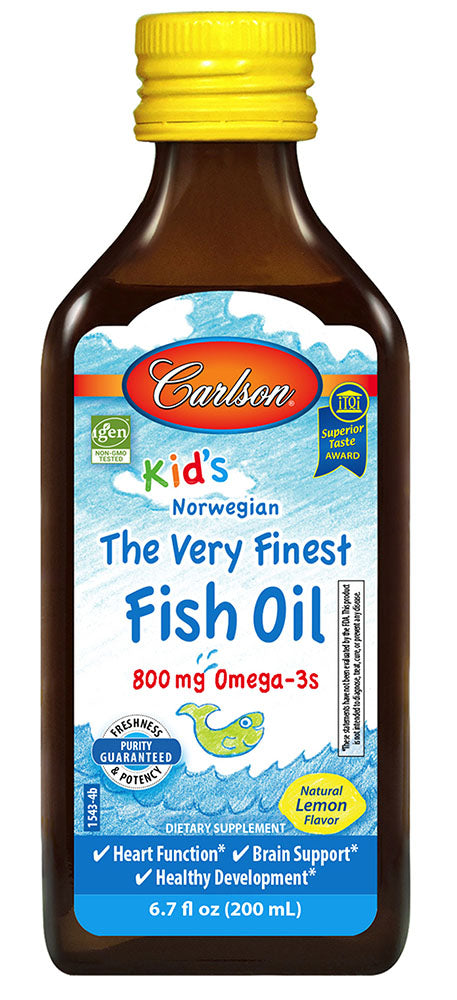 DISCLAIMER
The information and product descriptions appearing on this website are for information purposes only, and are not intended to provide or replace medical advice to individuals from a qualified health care professional. Consult with your physician if you have any health concerns, and before initiating any new diet, exercise, supplement, or other lifestyle changes.