Regular price
Suggested Retail
$31.09
Unit price
per
Everyday Low Price
Sold Out
Supports healthy hair, skin & nails
Aids in connective tissue formation for healthy looking hair, skin and nails
Helps to maintain proper muscle function: including the heart muscle
Support radiant skin: Helps in tissue formation
Contains Hyaluronic acid and magnesium: for everyday health
Description
Neocell - Marine Collagen - 120 Capsule(s) - NPN: 80075889 -- Hyaluronic Acid and Collagen are the dynamic duo for radiant, healthy skin. Marine Collagen activates your natural beauty. This formula contains Magnesium which helps to maintain proper muscle function, including the heart muscle. Type 1&3 Collagen, Hyaluronic acid and Vitamin C work synergistically to support health collagen formation, youthful and radiant skin, and strong hair and nails. Make it part of your daily beauty routineNon-GMO. This product does not contain genetically modified material.
INGREDIENTS
Medicinal Ingredients
Collagen hydrolysate

500 mg

Copper

< 1 mg

Hyaluronic acid

5 mg

Magnesium

33 mg

Silicon

3 mg

Vitamin B12

< 1 mcg

Vitamin C

10 mg

Zinc

1 mg
Non-Medicinal Ingredients
Gelatin

Magnesium stearate
Share
View full details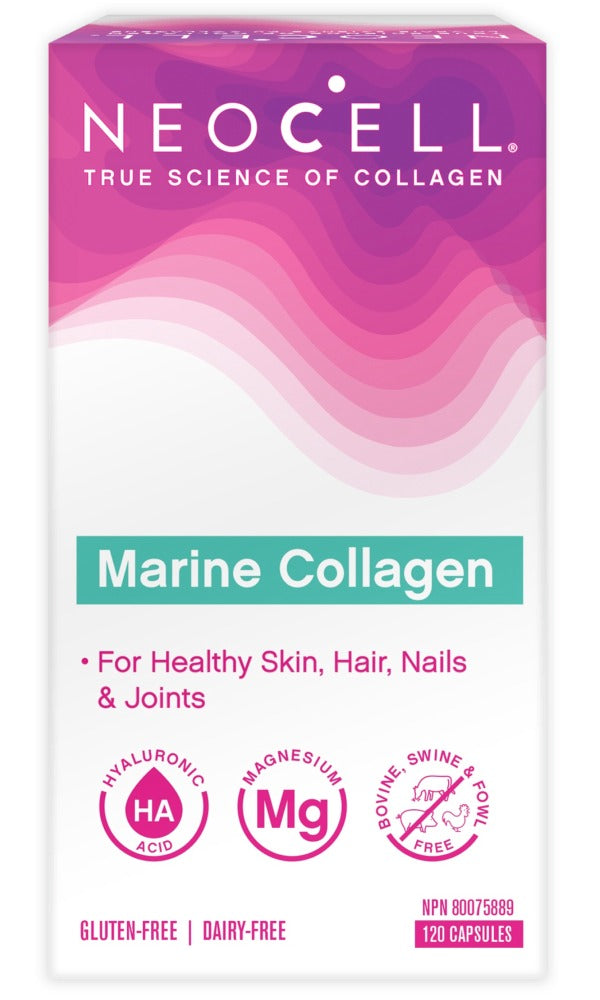 DISCLAIMER
The information and product descriptions appearing on this website are for information purposes only, and are not intended to provide or replace medical advice to individuals from a qualified health care professional. Consult with your physician if you have any health concerns, and before initiating any new diet, exercise, supplement, or other lifestyle changes.