Regular price
Suggested Retail
$20.29
Unit price
per
Everyday Low Price
Sold Out
Relieves heartburn effectively without neutralizing stomach acid significantly
Forms protective foam that hinders stomach acid in reaching the esophagus
Description
New Nordic - Frutin Gastro Gel - 48 Tablets Chewable(s) - NPN: 80071744 -- REFLUX GEL BARRIERMost antacids work by neutralizing the stomach acids so it doesnt burn if they get into the esophagus. Unfortunately, the stomach just responds by producing more acid, to avoid delaying digestion, and thus sets up a vicious circle. This does not happen with Frutin because the neutral dolomite/ pectin foam rises to the top of the stomach, keeping the acid in the stomach where it belongs. This soft foamy lid stays in place for up to 5 hours, allowing digestion to proceed normally, with no acid reflux effect. Frutin also quickly neutralizes any acid that may have already reached the top of the esophagus, easing discomfort quickly.SUPPLEMENT FACTSDAILY DOSE (ADULTS): Take 2 chewable tablets after meals or as necessary. Take up to 10 tablets in 24 hours. Chew tablet(s) thoroughly and drink water if needed.CAUTIONS & WARNINGS: Consult a health care practitioner for prolonged use. Do not take within two hours of another medicine as the effectiveness of the other medicine may be altered. Individuals with kidney disease should not take this product except on the advice of a doctor. Do not use if bottle is open. Keep out of reach of children.ADVERSE REACTIONS: Some people may experience diarrhea if taking 8 or more tablets per day.
INGREDIENTS
Medicinal Ingredients
Calcium carbonate

220 mg

Magnesium carbonate

180 mg

Pectin

200 mg
Non-Medicinal Ingredients
Copovidone

Magnesium Stearate

Peppermint leaf

Silica

Xylitol
Share
View full details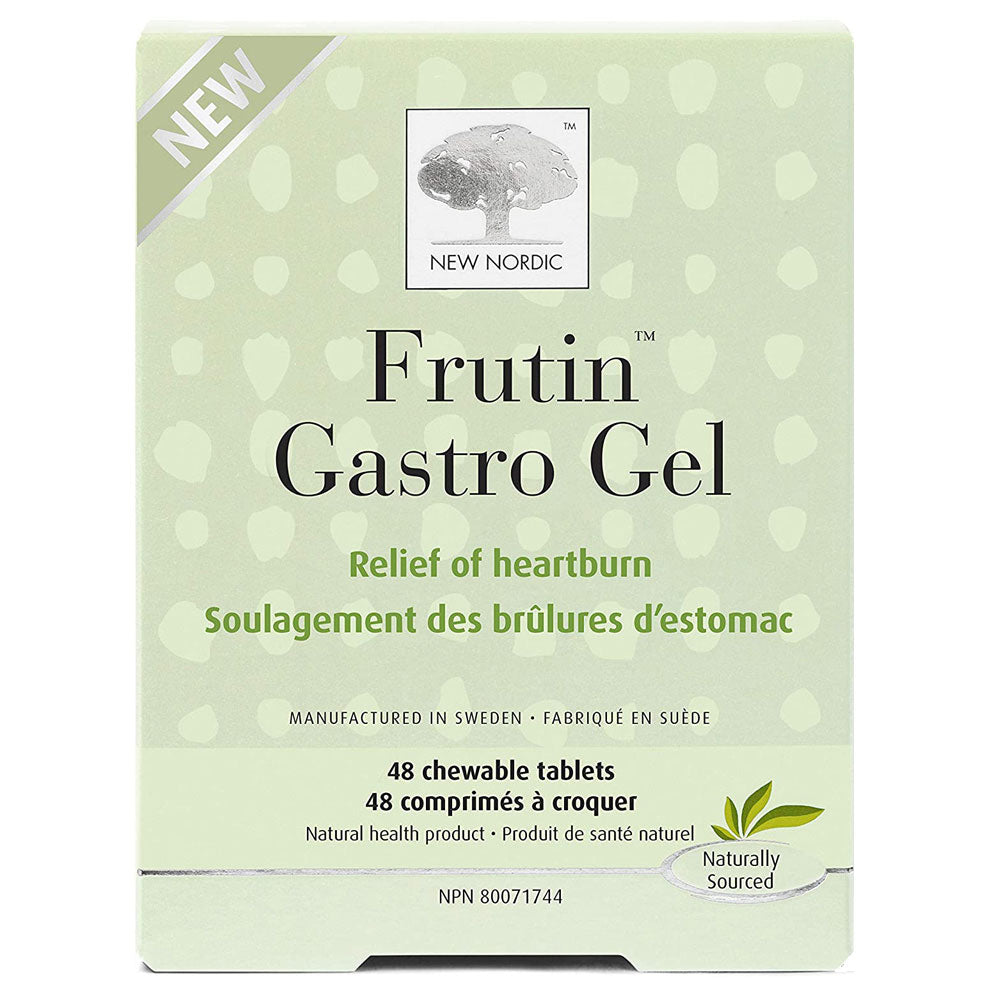 DISCLAIMER
The information and product descriptions appearing on this website are for information purposes only, and are not intended to provide or replace medical advice to individuals from a qualified health care professional. Consult with your physician if you have any health concerns, and before initiating any new diet, exercise, supplement, or other lifestyle changes.