Regular price
Suggested Retail
$39.39
Unit price
per
Everyday Low Price
Sold Out
Reduces prostate swelling
Improves urinary complaint symptoms
Supports optimal prostate health & libido
Includes 1500 mg of maca daily
Description
CanPrev - Prostate-Pro + Maca Support - 100 Vegetable Capsule(s) - NPN: 80033548 -- The prostate is a small, walnut-shaped gland in men located near the bladder. Its job is to produce seminal fluid that nourishes and transports sperm. Prostate enlargement, or benign prostatic hyperplasia (BPH), happens to most men as they age. As the prostate gets bigger, it presses on the urethra and can cause bladder and urination problems.BHP begins in the inner prostate and keeps expanding inward towards the core and tightening around the urethra, affecting urination. Prostate-Pro + Maca Support helps to relieve urologic symptoms associated with early stages of benign prostatic hyperplasia, including difficulty urinating, weak urine flow, incomplete voiding and frequent day and nighttime urination.
INGREDIENTS
Medicinal Ingredients
American ginseng

30 mg

Free plant sterols

15 mg

Maca

375 mg

Pygeum

19 mg

Rye

31 mg

Saw palmetto

140 mg

Selenium

50 mcg

Stinging nettle

50 mg

Tomato extract

8 mg

Vitamin D3

3 mcg

Vitamin D3

100 IU

Zinc

8 mg
Non-Medicinal Ingredients
Hypromellose

Magnesium Stearate
Share
View full details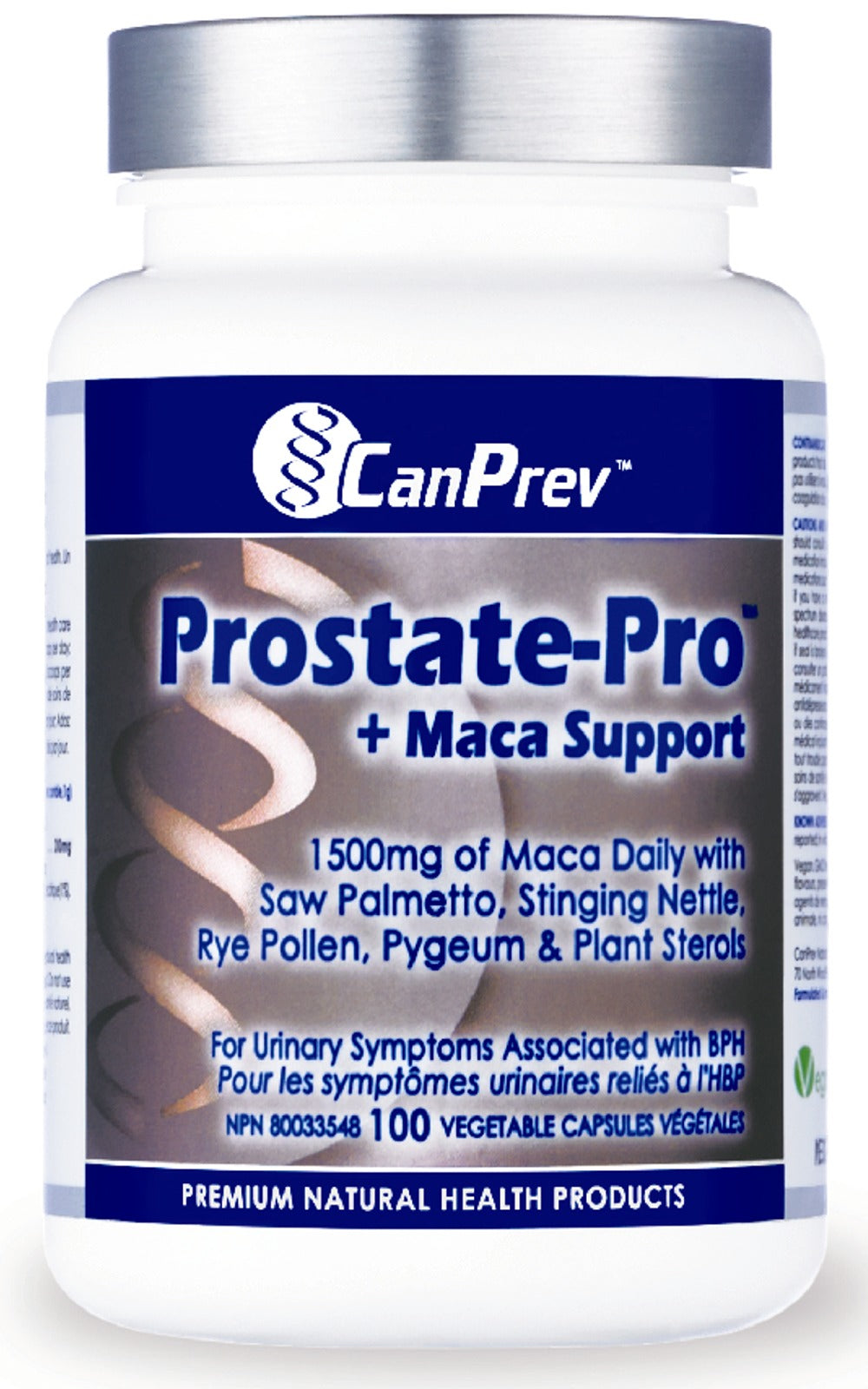 DISCLAIMER
The information and product descriptions appearing on this website are for information purposes only, and are not intended to provide or replace medical advice to individuals from a qualified health care professional. Consult with your physician if you have any health concerns, and before initiating any new diet, exercise, supplement, or other lifestyle changes.