Regular price
Suggested Retail
$49.29
Unit price
per
Everyday Low Price
Sold Out
Resvera-Pro provides antioxidants for the maintenance of cardiovascular & overall health
Multi-antioxidant, anti-inflammatory, anti-aging defense formula
Supports cardiovascular health and chronic venous insufficiency (CVI)
200mg of pure resveratrol daily
Contains coenzyme Q10 for added cardiovascular support
Description
CanPrev - Resvera-Pro - 60 Vegetable Capsule(s) - NPN: 80029503 -- Experts have long supported the fact that drinking a glass of red wine a day can be good for your health. The credit for this health benefit might be attributed to a polyphenol called resveratrol found in the skin of red grapes, in grape seeds and black currants.Polyphenols, or plant chemical compounds, are antioxidants that prevent cells in your body from breaking down, or oxidizing. Free radicals produced in the body help us with digestion and the conversion of food into energy. But they can easily turn from beneficial to harmful when their numbers get out of hand, damaging cell structures in their wake (oxidation) and leaving us prone to disease. The antioxidant properties of resveratrol work to especially protect our cardiovascular health and help combat aging.Resvera-Pro is a powerful formulation that captures the mighty health benefits of grape seeds, red wine, quercetin, coenzyme Q10 and black currants in a single, concentrated formula with an exceptionally high ORAC (oxygen radical absorption capacity) value. Resvera-Pro helps to support cardiovascular health and relieve symptoms associated with non-complicated chronic venous insufficiency (CVI). Cheers to your good health!
INGREDIENTS
Medicinal Ingredients
Bilberry

50 mg

Black currant

50 mg

CoQ10

30 mg

Grape seed extract

150 mg

Quercetin

180 mg

Resveratrol

100 mg
Non-Medicinal Ingredients
Hypromellose

Magnesium Stearate
Share
View full details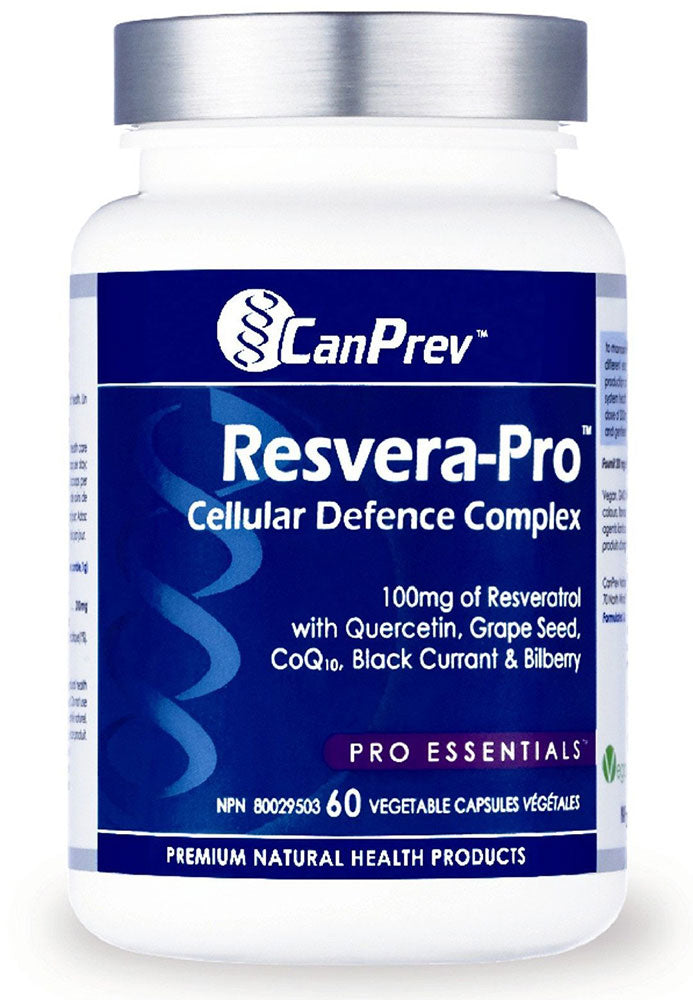 DISCLAIMER
The information and product descriptions appearing on this website are for information purposes only, and are not intended to provide or replace medical advice to individuals from a qualified health care professional. Consult with your physician if you have any health concerns, and before initiating any new diet, exercise, supplement, or other lifestyle changes.